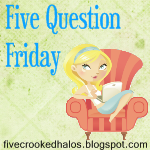 1. What's your go to comfort food or sweet?
Pretty much whatever I have in the house for snacking. Sometimes it's sweet stuff (this week Coconut and Lime Sugar Cookies), sometimes chips or popcorn, sometimes fruit. It varies all the time.
2. What's the most romantic place you've ever been to?
That's a tough one. Probably Helcion Hot Springs with Danny one year. It was a wonderful cabin for 2 days away from Everything. I so want to go back one day.
3. What's your favourite thing about fall/Halloween?
Besides hockey season starting, I love all the fall things I get to do with the kids. Pumpkin patches, corn maze, hayrides, etc. I also love fall food - casseroles, stews, chili, soup.
4. How would you spend 24 hours alone?
Ooh... I'd like to think I'd read, sleep, relax but in reality I'd sleep in, read a bit and then get bored. I like having my 'me time' but it's more fun when I get to hang out with people.
5. Does your husband bring you flowers? Are you the bring-me-flowers kinda girl?
Yes! I am a bring-me-flowers kinda girl. Are there girls out there that don't want flowers??? And yes, my husband does, occasionally, bring me flowers. I say occasionally because we're averaging once a year. He's always sweet about it though. A very thoughtful card or Beautiful flowers or a creative way to give them to me.
The very first time I got flowers from him was when we had just started dating. Some friends of his were down visiting and I met up with them back at Danny's place after work one night. After staying up and drinking with them for a bit I decided to head to bed when they went to the liquor store. I'm not sure how long they were gone for but I was out when they got back. Danny came into the bedroom and told me the mattress was falling off and to roll over so he could fix it. After rolling over, half asleep, he shook the bed for a moment, gave me a kiss and left. I promptly went back to sleep. A few hours later I rolled over and woke up because my head was on something that was crinkling. When I turned on the light to see what it was I discovered a single rose lying on the pillow for me. It was very sweet.
Lillies from Danny & Lynden for Mother's Day