Every post I add it to Facebook, where most of my followers read my posts from (maybe I should look at starting a Facebook page... maybe...) but I had posted a status to a certain group and instead of undoing it after Facebook kept my statuses and links locked down.
I've had a few people comment they've missed me last week but I was posting new stuff last week. So, I thought I'd write a recap for those of you who missed my week.
Covert Robin Gift Exchange
About a month ago I added my name to a Covert Robin Gift Exchange. When my package arrived it totally made my day. Rikki from
Optomistic Slacker
made a wonderful package for me.
Pinteresting Recipes
I post about what I like on Pinterest, but I decided to actually show you some of the recipes I've tried (with my feedback on them). The pork tenderloin has been commented on many times and my grandparents had it last week and Loved it.
Wordless Wednesday
This is one of my favourite Wordless Wednesdays.
New Boots
Lynden got new boots, to say they were a hit is a major understatement.
Five Question Friday
Another 5QF including bucket list items, first job, would you rather, favourite cocktail, and saving money tips.
I also participated in a
Hello Cotton Blog Hop,
so there's a new way to follow me for all you other bloggers out there. Hello Cotton is a really nice, organized way to follow your favourite blogs.
I also did a
guest post
for Amanda at
Raising Miss Mommy
.
AND
I entered a giveaway from
City2Sticks
, go and check it out!! I am totally in love with the peas in a pod and the birds nests necklaces (hint hint for a mother's day gift for me). Feel free to enter, but if you don't my chances are better ;-)
All this while linking up here
and here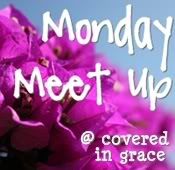 AND I joined in on another blogger gift exchange, check it out
That's what you missed from my blogging week.