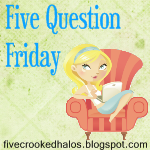 1. Do you make your kids finish all the food on their plates?
It honestly depends. If Lynden hasn't eaten much throughout the day and we know the amount we've given him at dinner he can eat we will make him eat all of it. (It's more frustrating when he asks for a snack 5 minutes after dinner). It is hard to tell sometimes because we dish him up, as he gets old enough to dish his own plate then we'll be a little more strict about it.
2. Do you give allowances?
Not yet. We threw around the idea of paying Lynden to do certain things each day, like put his toys away, put dirty clothes in the laundry, help make his bed, etc, but he wasn't too keen on the idea. Probably after his birthday we'll ask him again; the kids does like money!
3. Do you actually park your car in the garage?
We only have a carport, and Danny doesn't even pull the car into it. I don't know why...
4. What's the one food you'll NEVER cook?
I don't know... There's foods I don't eat, yet I still cook them. I probably wouldn't cook something weird like dog.
5. Do you have anything exciting planned for the summer?
Yes! We're taking a road trip to Alberta to visit with some family. I'm actually really excited about it (maybe not the actual roadtrip. 2 days each way with an almost-4 year old and an 18 month old. That part should be interesting). We're going to take them to West Edmonton Mall and Drumheller, both places I've never been either.
Other than that, not much else is planned. Danny will be working crazy hours again so it's a lot of solo-mommy time, in between
working
.