I wasn't sold on Fill In Friday, so I'm trying a new one this week. Five Question Friday from
My Little Life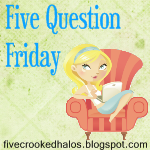 1. W

hat is your favorite summer time activity?
Eating Berries. It's kind of sad but I love summer fruit. There's just something about having berries, peaches and watermelon in your house all the time that's just wonderful.
I do also love the sun. I'm always cold so it's nice to have warm weather for a few months that makes you feel like you're melting all the time (I was 7 months pregnant with Lynden in the Okanagan in August. I only got uncomfortable when it hit 35+ outside).
I also love watching Lynden outside in the sunshine. He's an outside boy (if he could be outside all day every day he'd be a happy camper) and thrives in the summer months since I'm more inclined to let him run amuck for long periods of time, unlike the cold and wet months of the year.
2. Do you have one laundry soap you stick to, or do you buy whatever's on sale?
Purex. It started when Lynden was born. We bought the Purex Baby Soft soap and I LOVE the smell of it. It reminds me of when Lynden was a baby, which seems forever ago. Anyways, we bought some Purex soap for us at the same time and I've just stuck with it. But, I do watch for it to be on sale and when it's a Good deal I'll buy it, even if I just bought some.
3. What is your favourite dinner to make in the summer?
Anything that has been cooked on the BBQ, granted I don't usually use the BBQ - it's a blue job. But, I so enjoy BBQ food, slightly crispy. For something I make, it would have to be spinach salad, although Danny doesn't like egg in it and I do (I'm going to make the eggs on the side and just put on my salad). I can eat spinach salad all summer long.
4. Do you have any talents?
Not really. I am not artistic, I can't draw, craft, although I'm starting to sew again (I love the idea of being able to make Halloween costumes for the kidlets, but I'm starting small - look for a post in the near future). I can bake and cook, but I'm a recipe follower and I don't attempt things outside of my comfort zone.
I can change a diaper in 90 seconds, does that count?
5. If you could instantly be an expert in something, what would it be? Why?
Coupons! I am all about the deals these days and I've got a massive stack of coupons that I take everywhere with me. I watch flyers to find the best deals and use my coupons on top of it. It's not uncommon for Danny to hear "I have a coupon" when we're shopping now. But, I'm not like those extreme shoppers (I want to be. Who doesn't want to buy $150 worth of groceries for $4.16?!?!).....yet.
A few weeks ago I bought $50 worth of products and save $16 and got a few free items in there too. I was pretty excited about it.
So, if I could instantly become an expert in extreme couponing I'd be thrilled!
On a separate note, I'm about to cross another item off my
Bucket List
. Danny brought home the diving books for me to read by Monday so I can get into the pool on Tuesday. Look forward to an update next week.