Hello Life, Experience Needed readers! I'm Amber, blogger behind
Sneakers Over Stilettos
. I am fashion obbessed, a self proclaimed shoe addict, and take an unhealthy amount of photos on a daily basis! After reading my guest post I hope you will come over and say hi! Love meeting you bloggy pals!
Now on to the guest post! If you have been following Amanda's blog for a while you know that she has posted some pretty yummy recipes in the past. So I figured her readers must love cooking as well! I am actually not a very big cooker in our house. I am really spoiled and my husband does the majority of the cooking.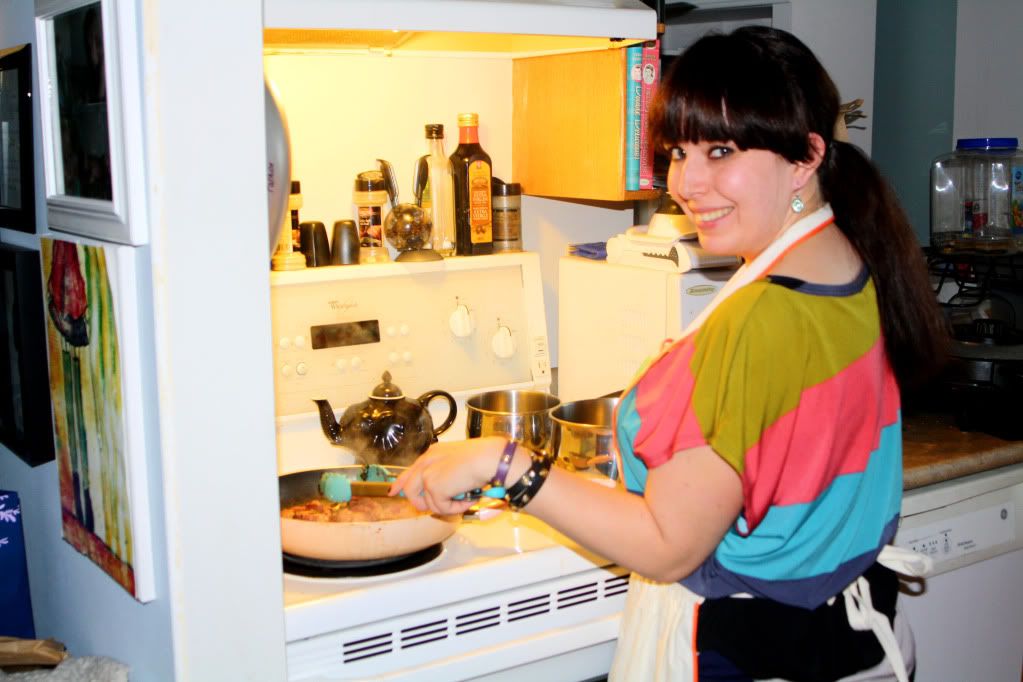 The best part about this meal is it sounds really complicated but its actually really easy to make! Now if you have ever made french food, you know its loaded with high fat! So I always alter the reciepe to make it a little better. In this particular case I cut out the bacon that the recipe calls for and I reduced the amount of butter needed a bit.
The first thing you always want to do, is dry the meat. After learning this my husband and I couldn't believe how much better browning the meat was. I just use paper towel to do this.
After drying the meat, use an electric frying pan to brown the chicken. I used our counter top griller. It doesn't show heat settings so I put it on high. If yours does show heat settings 360 degrees is the temperature you want.
While your chicken is browning add minced red onion parsely to a frying pan with some port to sautee with. I chose to use port, I found it make the food taste a little sweeter, and for me that was better. If you would like to use red wine use a full bodied red wine.
After the chicken is brown add it to a regular frying pan with your onions and parsley. Grill the chicken in the pan until its cooked.
And thats it! With prep and cooking the chicken your time needed is somewhere around 45 minutes.
And because I love the taste of the port I chose to sautee my carrots in the port and onions as well!

Thank you Amanda for having on your blog today! Loved filling in and sharing one of my favorite dishes to make!
http://ambergioiasmith.blogspot.com
http://fashion-playground.blogspot.com
http://photographybyamberlee.blogspot.com
https://twitter.com/#!/mamberlee